To obtain product lines in the premium segment, a homogeneous expression is of great importance as well as the detail like the finishing, the shade of the colour and questions like; what does the material express?
After several year of experience from working with Colour Material Finishing (CMF) Design with award-winning products at global companies, we have gained an understanding of how to use details and CMF to improve product expression.
Colour setup for showrooms
We helped Swedish manufacturer Stolab with colour setup and display of their fine furniture in a Pop-up Showroom at Input Interior Stockholm.
Colour and materials for products
A shelf for books or magazines with a belt that keeps them in place.
The leather belt can be adjusted to fit many or few books. News for 2013 are Copper and Brass finishes.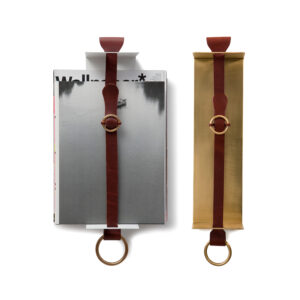 Colour Scheme For Urban Environment 
Facade renovation including enlargement and remodelling of balcony, refurbishment and new colour scheme.